Tapout Fitness Franchise – increasing brand awareness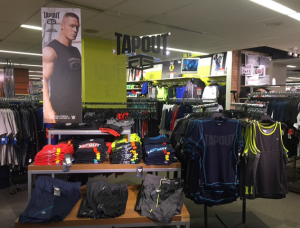 Tapout Fitness is one of the most exciting emerging franchise opportunities in the health and fitness industry today – and keeps getting better!
Tapout Fitness offers the unique opportunity to get in on the ground floor with an iconic, international brand offering world-wide brand exposure through the some of the largest retail stores in the world, as well as through strategic partnerships such as the WWE.
No other emerging franchise brand has ever had this type of media exposure. Want to talk about brand awareness?  Just imagine your brand worn by world-class athletes and celebrities, over 25 million social media impressions in 1 week and over 100,00o die-hard fans watching the launch of Tapout's new product line.
This week, Tapout partnered with the WWE to launch it's new line of men's apparel as part of it's strategy to become the country's leading hardbody lifestyle brand, including Tapout Fitness Centers.
Tapout Fitness is one of the very few franchise opportunities that can offer franchise owners this kind of brand exposure to increase customer awareness – all at no cost to the franchisee!
PLEASE VIEW THE SLIDE SHOW BELOW TO SEE MORE:
Tapout – JC Penney WrestleMania Activations Recap
FOR MORE INFORMATION:
Chris Otter
SVP Development
Tapout Fitness
Call or text (912) 635-2928
Franchise@tapoutfitness.com
Website: www.TapoutFitness.com