Wealth Building Franchise Options – Learn the Master Franchise and Area Developer Advantage
While thinking about franchise investment, one of the main concerns that many entrepreneurs have is their return on investment. The truth is that calculating the return on investment is a fairly intuitive and straightforward process. To begin with it is important to note that this is not a passive investment like buying stocks and bonds, for example. In other words, the return on investment is dependent, to some extent, on the skills and talent of the franchise owner, quality and growth potential of the brand, in addition to the amount of funds invested. When comparing the risk to rewards, many entrepreneurs have found buying franchises to be very attractive and one of the fastest ways to accumulate wealth.
We help our clients improve their return on investment by providing them with available high income franchise opportunities that matches their experience, business goals and financial objectives. We have found that by getting to know our clients has resulted in a more profitable investment in a shorter amount of time as well as reducing the learning curve for them.
Real Wealth: How would you like to share in the royalty income generated by all of the Subway Sandwiches or Domino's Pizzas operating within your city? A Master Franchisee or Area Developer gets to share in the income generated by every location opened and operating within his/her territory.
An Area Developer is someone in the unique position of controlling the development rights, of an emerging brand, within a given area. This territory can be a major metropolitan area, an entire city, or in some cases the whole State.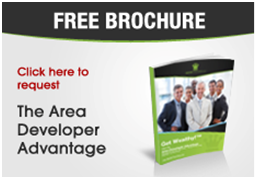 The Area Developer rarely works in the day-to-day operations of the store and acts primarily as a business consultant to other operators or business owners in the territory. The Master Franchisee or Area Developer is often presented with multiple revenue possibilities including equity building.
The investment requirements vary greatly based on numerous factors including: area size, brand demand, growth rate, population, easy of operations etc..but typically range from between $50,000 to $250,000.
To learn more about these franchise wealth building options, request a copy of our Area Developer Advantage Brochure.