Huge, International Brand now Franchising
Tapout – an iconic, global brand name and the #1 lifestyle brand in Mixed Martial Arts (MMA), one of the fastest growing sports in the world – is now franchising.
Tapout was founded over 18 years ago on the principles of passion, hard work and commitment to being the best. After achieving huge worldwide product sales success, in excess of $200 million dollars annually, Tapout was acquired by Authentic Brands Group, (www.authenticbrandsgroup.com ) a multi-billion dollar global brand marketing company.
Today, Tapout is building upon its' successful legacy to become the world's leading hard-body lifestyle brand dedicated to total health and fitness.
Tapout Fitness offers the unique opportunity to get in on the ground floor with an established, international brand that combines the industry's most innovative "best of the best??? fitness techniques, including strength training, cardio boxing, personal and class training, and more.
Plus, Tapout Fitness is the only full-service fitness franchise to also offer MMA- inspired Tapout Martial Arts for all ages to deliver an exciting, all-in-one fitness center for the entire family.
Tapout Fitness offers franchise owners instant brand recognition coupled with tremendous merchandising and marketing opportunities.
Huge Brand Recognition: Tapout Fitness is positioned to become the most recognized brand in the franchised health and fitness industry, including strategic partnerships with major organizations to increase customer awareness:
WWE – Tapout Fitness is the Official Training Partner of the WWE, with an average 13 million TV audience per week, over 3 billion YouTube views, 300+ million online visitors/month.
Tapout and WWE Announce Partnership
TAPOUT EXPRESS STUDIO – Now, Tapout Fitness has introduced the Tapout Express Studio, a full-service fitness center that offers all of the advantages of our standard sized unit, but designed for smaller markets or suburban areas where the 'big-box' gyms can't go.  The Tapout Fitness Express model was built from day one for Multi-unit or Semi-absentee franchise owners who want to start with one studio and eventually grow a chain of Tapout Fitness Express locations, multiplying their income and equity as each studio is opened. Tapout Express offers one of the lowest investments in the industry for a full-service fitness franchise.
HOW BIG IS THE OPPORTUNITY?
The fitness industry is a $30 billion+ industry and has remained economically strong growing at an average annual rate of 8% for the last 20 years with nearly one million new members joining health clubs in the U.S each year. Today, the fitness industry continues to thrive as people now see their health and wellness as a necessity, not a luxury. This is especially true with the baby-boomers, who are now the fastest growing sector in fitness club membership, as they are now retiring and want a longer, healthier lifestyle. Women have now surpassed men to become the largest percentage of fitness club members.
FOR MORE INFORMATION:
Tapout Fitness is offering Single, Multi-unit and Master opportunities in most states. Call to learn more about availability:
Chris Otter
SVP Development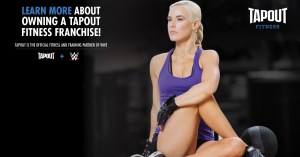 Tapout Fitness
(912) 635-2928
Franchise@tapoutfitness.com
Website: www.TapoutFitness.com