Franchise Group on Pro Business Radio 2016 Hot Brands
In the heart of the Atlanta business district of Buckhead lies a hidden gem that attracts some of the most influential people in the state of Georgia and beyond to talk about nothing other than business.
Rich Casanova has stepped in to fill a vacuum for businesses by creating Pro Business Channel (PBC) and giving them a platform to talk all about their business with no hidden agenda or gotcha questions.  "I like to say we are the PBS of the business community. There is no slant one way or the other. We don't lean to the left, or to the right, we lean business. Pro Business Channel is 100% business all the time,??? added Casanova.
PBC is dedicated to educating and exposing the business community about the great business revolution…"Franchising".  PBC has p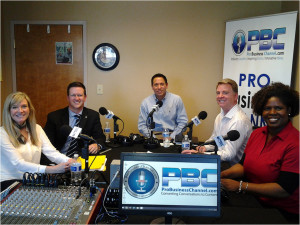 artnered with industry expert Pam Currie who is the Host and Founder of the The Franchise Business Radio Show.  The show is a platform to bring together franchise professionals and resources to connect, educate, and collaborate to serve the franchise community and the franchise consumer. Spotlighting Leaders in the Franchise Industry Experts in funding, legal, marketing and consulting.
Mike Ciccarelli and Drew Paras for Franchise Group, LLC were recent guests on the show to talk about and share some great information on two of 2016's Hot Emerging Brands:  Tapout Fitness & Marilyn Monroe Spas.   Both iconic international brand names are now emerging into franchising locations worldwide.  Franchise Group LLC is a national consulting firm specializing in franchise brand development and sales strategies.
Here is the link to the show:  Franchise Business Radio Episode 011.  If you would like to learn more about these two great brands contact Mike Ciccarelli at mikec@frangroup.com.